Important collection of 5 very rare books, 16th till 18th century, Europe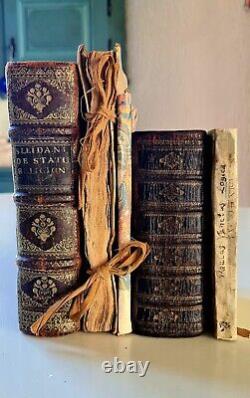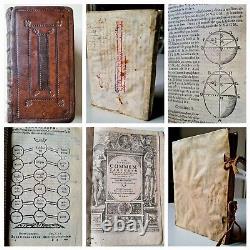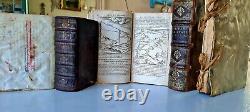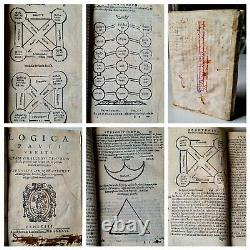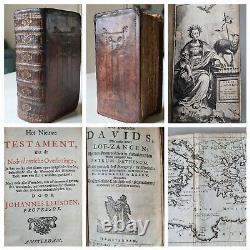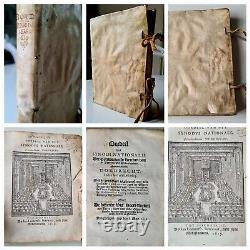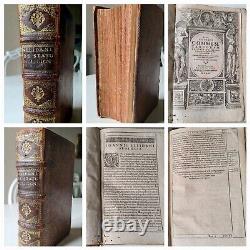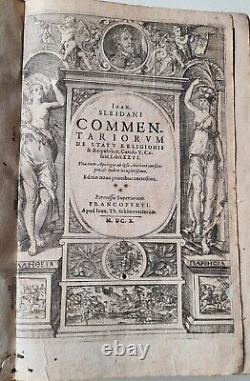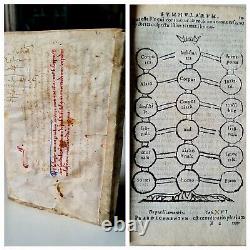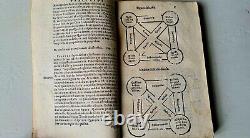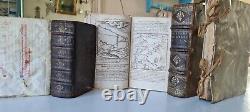 Beautiful Collection of 5 very rare and valuable old books, from 16th till 18th century, printed in Europe. 1 Pauli Veneti - Logica - 1586. Marinelli, 1586 - With printer's device and woodcut diagrams in the text - with 109 numbered lvs (218 pages + index) - with 13th century latin manuscript on vellum as binding (slightly stained) - 14,5 x 10 x 1,5 cm.
His "Logica magna" was a much-used textbook in the 15th and 16th centuries. Title with crossed-out ownership entry, waterstained at the beginning and end, leaf 70 with edge tear, no text loss, somewhat stained.
Paul Of Venice, Italian Paolo Veneto, or Paolo Di Venezia, Latin Paulus Venetus, original name Paolo Nicoletti, (born 1372, Udine, Patriarchate of Aquileia [Italy]-died June 15, 1429, Padua, Venetian Republic), Italian Augustinian philosopher theologian, metaphysican and logician, who gained recognition as an educator and author of works on logic. Paul studied at the universities of Oxford and Padua, where he also lectured (1408-15), and became Venetian ambassador to Poland (1413), but difficulties with the Venetian authorities prompted him to sever his ties with Venice. While teaching in Bologna (1424) and Siena (1422, 1427), where he became rector, he introduced the logic of William of Ockham. His principal works include Logica parva (1473), Logica magna (1481), Summa totius philosophiae naturalis (1496), and several discussions on Aristotle. The first two selections are known as Logica duplex, and they were used as a comprehensive textbook during the 15th and 16th centuries.
Sleidani : Commentariorum de statu Religionis & reipulicae, Carolo V. Unacum Apologia abipso Authore conscripta, & Indice locupletissimo. Leather binding with gilt spine, 20 x 13 x 6 cm - 805 pp + index. Johannes Sleidanus or Sleidan was a Luxembourg historian and analyst of the Reformation. Sleidanus was in the habit of copying all the Reformation papers to which he had access, and Martin Bucer, having seen his collection, suggested Philip of Hesse to appoint him historian of the Reformation, give him a salary and access to all necessary documents.
After some delay, the heads of the League of Schmalkalden agreed to the proposal, and Sleidanus began his great work, completing the first volume in 1545. Commentariorum de statu Religionis et reipublicae, Carolo V. Caesare, libri XXVI appeared 1 year after his death.
It remains valuable contemporary history from the time of the Reformation and contains a large collection of documents. 3 Old & rare Dutch Bible with maps, 17th century.
The New Testament & Psalms of David - 1698 - in fine gilt leather binding. In Greek & Dutch, Johannes Leusden - Amsterdam, Hendrick Wetstein, 1698 - 15 x 8 x 6 cm - 605 pp.
Bound with: De CL Psalmen des Propheten Davids... Amsterdam, Burgers, Oterlyk, Losse etc, 1750 - + Catechism (88 pp).
In neat blind stamped binding. Old & rare first edition of the Synod of Dordrecht, 1619, printed in Dordrecht in the same year.
In original vellum binidng with the original closing cords. Original Dutch Title : Oordeel des Synodi Nationalis der Gereformeerde Kercken van de Vereenichde Nederlanden, ghehouden binnen Dordrecht, inden jare 1618 ende 1619.
Over de bekende vijf hooft-stucken der leere, daer van inde Gereformeerde Kercken deser Vereenichde Nederlanden verschil is gevallen, uytghesproken. Tot Dordrecht, By Ian Lenaertz. Berewout, ende zijne Medestanders, 1619 - vellum, with original closing cords - 21 x 16 cm - 114 pages - first edition. First leaves frayed, slightly damaged.
Original binding and closing cords. Voting representatives from eight foreign Reformed churches were also invited. Among these groups were also Anglican delegates from the Church of England and the Church of Scotland. 5 Jean Errard - la Géométrie et practique généralle d'icelle - 1602. Auuray, 1602 - 96 pp, with woodcut title-vignette and many woodcut ills.
And diagrams in the text. Later soft cover, 17 x 11 cm - lacks lvs. Aiii (page 5-6, replaced in facsimile) and Bvi (page 11-12), otherwise complete - with some waterstains and minor defects.
Titlepage a bit frayed, backcover with small damage, otherwise solid, complete, interior fresh and clean. Converted to Protestantism, he entered the service of King Henry IV of France.
By the turn of the century he was attending a whole school of French-speaking mathematicians, many of whom were Huguenots. He introduced the Italian fortress to France and was thus a forerunner of Vauban. Very rare second edition, the first edition appeared in 1594 (the date of dedication in this edition). THESE BOOKS ARE ALSO LISTED INDIVIDUALLY, PLEASE SEE MY OTHER LISTINGS FOR MORE DETAILS AND PHOTO'S.
This item is in the category "Books & Magazines\Antiquarian & Collectible". The seller is "tradetraveler65" and is located in this country: NL.
This item can be shipped worldwide.
Binding: Fine Binding
Place of Publication: Venice
Language: Latin
Special Attributes: 1st Edition, Ex-Library, Illuminated, Illustrated, Inscribed, Manuscript
Region: Europe
Topic: Christianity, Bibles
Country/Region of Manufacture: Netherlands
Modified Item: No
Subject: Religion & Spirituality
Year Printed: 1586
Original/Facsimile: Original